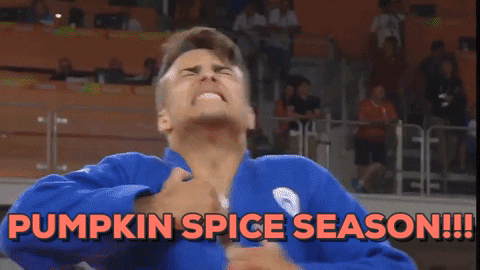 That's right, we are all losing it for Pumpkin Spice Lattes! But let's discuss the "nutrition" facts behind the classic Starbucks PSL. NBD, it just has the SAME AMOUNT OF SUGAR AS TWO SNICKERS BARS…about 50 grams?I die. If you're trying to keep it clean this fall, PSL's are going to make your life so much harder.
Before you get sad, I am not saying you have to live without PSL's this fall! You may remember my fave knock-off recipe that will handle your craving, but NOW I've added two of my favorite supplements to take this drink to the next level.
First up, collagen.
I've written about my obsession with Vital Protein Collagen Peptides before. But, guys, it's seriously the easiest addition to any drink you have because it has zero impact on the taste and completely dissolves! Every drink you have in your life can be a protein boost…it's so incredible. For a refresh, collagen is the major building block in hair, skin, nails and provides protection for bones, muscles, joints, tendons and organs. So if you're a girl who's trying to build up some muscle, fuel some major fat burn, but also have amazing hair and skin, collagen is the *obvious* choice.
But by adding collagen powder, I swear, you'll see your hair and nails grown and your skin look more moisturized.
The new kid on the blog: Cordyceps!
Cordi-what? Sounds…scienc-y. I know, but it's the actual best. Cordyceps powder is an extract from wild mushrooms with crazy benefits.. It can boost exercise performance, fight inflammation AND help slow down aging, among other benefits. I know mushrooms are a semi-divisive food (you either love them or you hate them!), but trust me: it's totally flavorless in powder form! I get mine here .
Glow-up of the century: your favorite fall PSL is under 150 calories AND will make your skin look fabulous!
PUMPKIN SPICE LATTE RECIPE